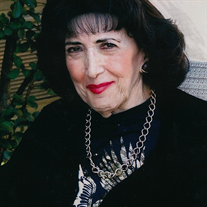 Clarita "Tootsie" Ann Hoffman, 84, of Leonardtown, MD passed away on January 12, 2017 at SagePoint Senior Living Services. Clarita was born on July 3, 1932 in Washington, DC to the late Camillo "Pops" and Elizabeth Annie (Sonntag) Vaccaro.

Clarita worked for 35 years as an Administrative Assistant for Franks Duplicating Services in the National Press Building in Washington, DC. She was an avid BINGO player and all around sports fan who enjoyed cheering for a few of her favorite teams; the Washington Capitals, Washington Redskins, Baltimore Orioles and whoever was wrestling. She was part of a large family in which she was very proud of her Italian heritage. She loved spending time with her family and enjoyed eating MD crabs and oysters.

In addition to her parents she is predeceased by her husband Paul William Hoffman, daughter Alice Miller, three brothers; Vince, Jimmy and Mike and four sisters; Bertha, Anna, Catherine and Serita. She is survived by two sons; Paul Hoffman (Sandy) and James Hoffman (Maria), four daughters; Teresa Curry, Pam Bishop (Ralph), Cheryl Brooks (Denis) and Tammy Grant, 18 grandchildren, 19 great-grandchildren and a sister Christina Burcham.

Gathering of family and friends will be on Tuesday, January 24, 2017 from 10:00AM until time of service at 12:00PM at Raymond Funeral Service, 5635 Washington Ave, La Plata, MD 20646. Interment will follow at Cheltenham Veterans Cemetery, 11301 Crain Highway, MD 20623 at 1:45PM.

Memorial contributions are requested to National Multiple Sclerosis Society, 1800 M Street, NW, Suite B50 North, Washington, DC 2036 and/or American Cancer Society, 801 Roeder Road, Suite 800, Silver Spring, MD 20910. Arrangements by Raymond Funeral Service.