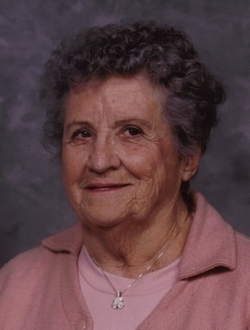 Ethel Jones Carlow of Lusby, MD. Preceded in death by her sons Robert Frazier Carlow and Alan Owen Carlow, parents Violet Irene Curtis and Evan Owen Jones, siblings Robert T. Jones and Doris Hernandez. Survived by her granddaughter Karen Lee Carlow of Lusby, MD and great grandson Ryan Philyaw of Annapolis, MD.

Ethel retired from the District of Columbia Police Department in 1965 where she worked as a Secretary in the Detectives Division. She was a longtime Calvert County resident, moving to the Chesapeake Ranch Estates in 1972 from Cheverly, MD.

Ethel enjoyed gardening, sewing, building dollhouses, collecting dolls, traveling the world and community service. She was a long time member of the American Legion Auxiliary, spending many years volunteering for Pizza night and other functions at the Arick L. Lore Post 274 in Lusby.

Ethel was recognized by the Calvert Jaycees as an Outstanding Senior Citizen in 1995. She organized trips for seniors to other countries at the Southern Community Center where she also held sewing classes. Ethel was a volunteer for Habitat for Humanity helping build houses with The Jimmy Carter Work Project in the Philippines in 1999.

A Celebration of Life will be held Sunday, January 29, 2017 from 1pm to 4pm at the American Legion Post #274 in Lusby MD. Memorial contributions can be made to the American Cancer Society.