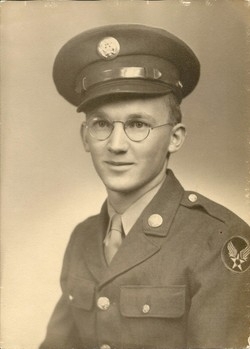 Arthur Joseph Goelling Jr., 92, of Hughesville, MD died on January 8, 2017, at Charlotte Hall Veterans Home, Charlotte Hall, MD. He was born on October 21, 1924 in Washington, DC to the late Arthur Joseph Goelling, Sr. and the late Elizabeth Spellbring Goelling.

Arthur grew up in Mt. Rainier, Maryland and graduated from Mt. Rainier High School in 1942, worked briefly in an auto parts store, and then went into the Army Air Force to serve during World War II. On August 5, 1945 he was a ground crew member near the Enola Gay when it was preparing to leave for Hiroshima, Japan. He was an airplane engine mechanic, 40th Bomber Squadron, 6th Bomber Group.

After the war he resided with his parents on a farm in Hughesville, MD. He spent many years working in the tobacco fields, growing his vegetable garden, fruit trees & enjoying nature & reading. His last 4 years were spent at Charlotte Hall Veterans Home.

In addition to his parents, Arthur was predeceased by his sisters, Mary Helen Goelling, Anne Elizabeth McDonald, Marianne Frances Jeffcott and one brother, Bernard L. Goelling. Arthur is survived by many nieces & nephews. Arrangements are being handled by Brinsfield-Echols Funeral Home, P.A. 30195 Three Notch Road. Funeral is private. Inurnment at Cheltenham Veterans Cemetery.