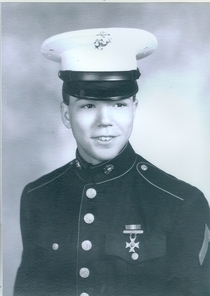 Lawrence Alfred Scheel, 66, of La Plata, MD died on January 7, 2017 at the VA Hospital Center in Washington, DC. Born in Washington, DC on September 10, 1950 to the late Lawrence J. Scheel and the late Frances J. Tothill Scheel, he is also preceded in death by his foster parents, Lucille and Jack Little.

Lawrence is survived by his wife, Fusako T. Scheel; daughters, Lisa Ann Abbott (Douglas, IV) and Maryann Bastain (Michael); and sister, Cathy Hamby-Hesterberg.

Lawrence served in the U.S. Marine Corp. He retired from the Defense Dept. as a computer specialist in cybersecurity and was Chief Inspector for the Defense Investigating Service. He was also an avid reader.

Services are private. Donations can be made in Lawrence's memory to the Multiple Myeloma Research Foundation at www.themmrf.org. Arrangements by Arehart Echols Funeral Home.