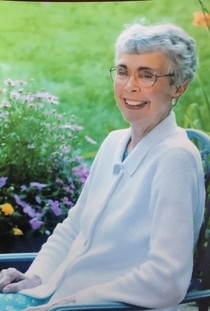 Patricia "Pat" Horstmann Vanderslice died on January 6, 2017 at George Washington University Hospital following a stroke. Pat was born in Salt Lake City, Utah in 1927 and grew up in Philadelphia. She was a graduate of St. Leonard's Academy and Rosemont College. She received a MS in Chemistry at Catholic University and was a Fulbright scholar in Nancy, France. In 1954 she married Joseph T. Vanderslice, who died in 1999.

Pat was a longtime resident of Southern Maryland, living both in Accokeek and Cobb Island. She served on the Board of Directors of the Alice Ferguson Foundation and was a guide for school groups at Hard Bargain Farm. She worked as a volunteer at the Forestville Pregnancy Center. She was active in the Cobb Island Citizens Association and was the Chairman of the local Potomac River Cleanup for several years. She was President of the Holy Ghost Catholic Church Ladies of Charity between 2005 and 2007.

Pat is survived by eight children, Sharon Vanderslice, Joseph Vanderslice, Julie Vanderslice, Peter Vanderslice, John Vanderslice, Polly Saul, Jerry Vanderslice and Amy Walker; 16 grandchildren; and two great-grandchildren.

A Viewing will be held on January 13, 2017 at St. Ignatius Church (Chapel Point), 8855 Chapel Point Rd., Port Tobacco, MD from 1 to 3pm, where a Funeral Mass will begin at 3PM. A Private Burial will be at St. Mary's Church, Piscataway on January 14, 2017. In lieu of flowers, donations may be made to St. Ignatius Church (Chapel Point), 8855 Chapel Point Rd., Port Tobacco, MD 20677. Arrangements by Arehart Echols Funeral Home.