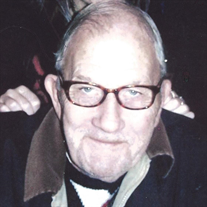 William Joseph Haley Sr., 72, of La Plata, Maryland (formerly of Capital Heights, Maryland) died January 7, 2017 at Genesis La Plata Center. He was the son of Norman S. Haley and Mary Katherine Weeks Haley. In addition to his parents, he was also predeceased by his brothers, Curtis, Warren, and Norman Haley, Jr.

William was a flooring installer with Floor Systems, based in Calvert County, for 30 years. He enjoyed watching television, especially wrestling and the Lifetime Channel. He was of the Christian faith.

He is survived by his son, William J. Haley, Jr.; his brother, Wayne Haley; and his sisters, Ginnie Hulvey, Donna Haley, Tina Haley, and Laurie Haley. He is also survived by five grandchildren.

Funeral Services are private at this time. Interment at Cedar Hill Cemetery will be scheduled at a later date. Contributions to assist with funeral expenses may be made to Raymond Funeral Service, PO Box 422, La Plata, Maryland 20646 (please make notation in Memo section of check for Haley services). Arrangements by Raymond Funeral Service.