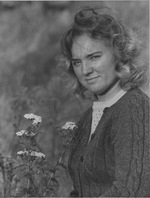 Helga Christel Ursula Wiepke (nee Wurch), 78, Mechanicsville, Maryland, USA, passed away January 1, 2017, at the Hospice House of St. Mary's, Callaway, Maryland, after a long battle with multiple Myeloma and complications thereof.

She was born to Friedrich and Frieda Wurch on January 10, 1938 near Holkewiese, Pomerania (Prussia, Germany). As a child she lived through difficult times of the Second World War (WWII). She emigrated to Canada with her former husband Wilfried G. Wiepke (deceased) and son, Thomas Wiepke, in 1959 to seek a better life.

She came to the United States in 1964 and moved to the Washington, D.C. area. A second son, Matthias Wiepke, was born in 1967. She was a homemaker, avid gardener, and pet-lover, and enjoyed her quiet life in St. Mary's County, Maryland. She is survived by her long-time partner, Paul Mantila, sons Matthias and Thomas, daughter-in-law Lonnie, granddaughter Hannah, and brothers Martin, Willi, and Wilfried (Wurch) of Germany. Arrangements by Mattingley-Gardiner Funeral Home.