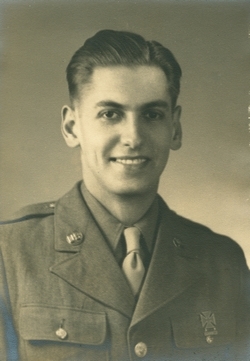 Ashby Arnett Kelley, 95, of Owings passed away December 27, 2016 at Charlotte Hall Veterans Home. He was born January 26, 1921 in Washington, D.C. to Melvin Ashby and Vada Dell (Robinette) Kelley. Ashby was raised in Prince George's County and graduated from Bladensburg High School in 1939. He enlisted in the U.S. Army on March 12, 1943 and was honorably discharged October 28, 1945.

Ashby married Alice June Montgomery on March 29, 1947 at Mt. Rainer Methodist Church. They were residents of New Carrollton for over 51 years. Alice passed away January 15, 2003, and Ashby later moved to Calvert County in 2008. He was employed as a supervisor by C&P and Bell Atlantic, which later became Verizon, for 43 years to the day, retiring on July 31, 1983.

Ashby was preceded in death by his wife, Alice. He is survived by children Alice Dell Kelley of Dunkirk, Thomas Ashby Kelley and wife Linda of Owings, John Melvin Kelley and wife Patricia of Aldie, VA, Margaret Joyce Hakemian and husband Rick of Greenfield Center, NY, and Kathleen Mary Kelley of Scotia, NY. Also surviving are eight grandchildren and five great-grandchildren. Arrangements by Rausch Funeral Home.