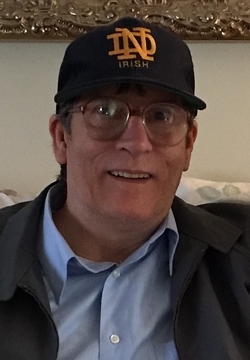 James Timothy "Jim Michaud, 58, of Lusby passed away December 26, 2016 at Johns Hopkins Hospital. He was born January 16, 1958 in Washington, D.C. to James Charles and Julia Irene Mary (Wilhelm) Michaud. Jim is survived by his mother Irene Wilhelm, sisters Susan Johnson and her husband Edwin of Mechanicsville, Vivienne Trawick of Rose Haven and Linda Garritty of Silver Spring and brothers John Christopher Michaud of Hughesville, Gary Michaud and his wife Kathy of Lusby and Glenn Michaud of Churchton.

Jim had a strong faith in God and watched mass on TV everyday. Jim was a member of the Southern Maryland Community Network. Jim loved to play his drums and listen to rock n roll music. He especially loved the Beatles, Led Zeppelin and Deep Purple. One of his favorite songs was Imagine by John Lennon. Jim loved to watch Notre Dame Fighting Irish football and Washington Redskins football games. He had a great sense of humor and would tell a joke to see if you would laugh.

Jim would listen to the weather with his weather radio and alert family with any upcoming storms to make sure you were safe. Jim devoted his life to helping his mom and dad. When our father passed away on 12/6/05 Jim took over the role of being there for our mother as a beloved son and companion. Our family misses Jim but knows he is with our father in heaven watching over our mother to keep her safe. Arrangements by Rausch Funeral Home.