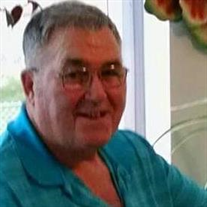 Melvin F. Hodge, of Waldorf, Maryland died on December 27, 2016 at the Charles County Hospice House in Waldorf. He was 71 years old. Born on June 1, 1945 in Washington, DC, he was the son of the late Catherine I. and the late Lonnie R. Hodge Sr. Mr. Hodge was a building engineer for the Prince George's County School Board.

In addition to his parents, he was preceded in death by his siblings Virginia Jarnagin, Lonnie R. Hodge Jr., and John A. Hodge. He is survived by his wife Jacqueline Hodge; son Brian R. Hodge; his brother Thomas E. "Tom" Hodge; grandchildren Mason and Sophia.

Service and entombment will be private. In lieu of flowers, memorial contributions may be made to Charles County Hospice House, 2505 Davis Road, Waldorf, MD 20603. Arrangements by Raymond Funeral Service.