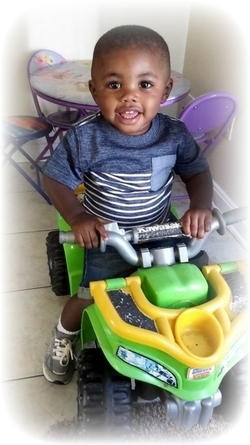 Kaveh E. Frederick, 20 months, of Lexington Park, MD passed away on December 26, 2016 at MedStar St. Mary's Hospital in Leonardtown, MD. Born April 12, 2015 he is the son of Terika Kent of Lexington Park, MD and Elvis Frederick of Loveville, MD.

Kaveh was a beautiful, loving and vibrant son. He was full of life and loved to play with his cars and trucks. His sister Ka'Leya was very special to him. He will be forever in his family's heart.

In addition to his beloved parents, he is also survived by his siblings: Ka'Leya Holt, Tyrell Frederick, Kameron Frederick, Elise Frederick, Emoni Frederick, Eliya Frederick, Elexis Frederick, Niaja Frederick, and Tyvaree Frederick; his grandparents, Mary Wills (Lamont Harris) of Lexington Park, MD, Terry Lee Kent Sr. (Trish) of California, MD and Elvis and Joyce Frederick of Loveville, MD; his aunts and uncles: Terrisa Kent, Terry Lee Kent, Jr., Terrence Kent, Terrell Kent, Maurice Thaxton, Teresa Thaxton, Joelle Rollins-Kent, Cassandra Greene, Sade Frederick, and Pierre Harris; his godparents, D'Amato Butler and Candace Maddox; and many cousins, extended family and friends.

Family will receive friends on Tuesday, January 3, 2017 from 9:00-11:00 a.m., with a Funeral Service celebrated by Pastor Michael Barber at 11:00 a.m., at Dominion Apostolic Ministries, St. Mary's Square, Unit 20, 21600 Great Mills Road, Lexington Park, MD 20653. Interment will follow at Charles Memorial Gardens in Leonardtown, MD 20650. Serving as pallbearers will be William Briscoe, Phillip Gough, D'Amato Butler, and John Banks, Jr. Honorary pallbearers will be his siblings. Arrangements by the Brinsfield Funeral Home, P.A.