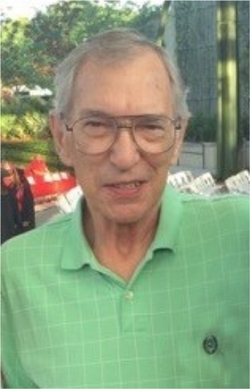 Randolph "Randy" Serman III, 70, of Mechanicsville, Maryland, passed away on December 23, 2016 at his residence, surrounded by his family. Born on February 26, 1946 in Ann Arbor, MI, he was the son of the late Randolph Serman Jr. and Claire Marie Heavenridge. Randy was a dedicated father and husband. He loved spending time with his children and granddaughter, Savannah. Most mornings you could find Randy's truck at St. Mary's Landing enjoying breakfast with his special ladies.

Chief Petty Officer Randolph "Randy" Serman III enlisted in the Navy as a Seaman Recruit in April 1964. Randy loved the Navy and proudly served 20 years before he retired in April 1984 in Indian Head, MD. Randy reported to the USS FDR (CVA-42) stationed in Scotland. While aboard the USS FDR (CVA-42) he deployed to West Pac-Vietnam from June 1966 to February 1967. In April 1967 he became Store Keeper 3rd Class still while aboard the USS FDR (CVA-42).

In October 1968, Randy transferred to USS SIMON LAKE stationed in Rota, Spain and was promoted in November 1970 to Store Keeper Second Class. In October 1976 he was promoted to Store Keeper First Class still while aboard USS SIMON LAKE. In September 1982 Randy was promoted to Chief Petty Officer, stationed in Indian Head, MD where he later retired. Upon retirement from the Navy, Randy began his Civilian career as a Contract Specialist serving Naval District Washington (NDW) and later transferred to Patuxent River Naval Air Station (NAS Pax River) where he retired after dedicated 21 years of service in 2007.

Randy is survived by his wife, Deborah Laws Serman; daughters, Leanne (Jonathan) Mattingly of Leonardtown, MD, Randi Serman and Kalynn Serman of Mechanicsville, MD; and granddaughter, Savannah Mattingly. He is also survived by his siblings, Vickie (Jim) Tykoski of Allegan, MI, Robert Serman of Howell, MI and Bryan Serman (John) of Saugatuck, MI. In addition to his siblings, he is also survived by his sister-in-laws, Karen (Ronnie) Wines, Shannon Laws and her daughter, Finley, and various nieces and nephews in Michigan. In addition to his parents, he was also preceded in death by his brothers, Michael Serman, Terry Serman, Eddie Serman and his sister, Sharon Serman.

The family will receive friends for Randy's Life Celebration on Thursday, December 29, 2016, from 5:00 to 8:00 p.m., with prayers recited at 7:00 p.m., at the Brinsfield Funeral Home, 22955 Hollywood Road, Leonardtown, MD 20650. Interment will be held at a later date in Arlington National Cemetery, Arlington, VA. Memorial Contributions may be made to Mechanicsville Volunteer Fire Department, Post Office Box 37, Mechanicsville, MD 20659, Mechanicsville Volunteer Rescue Squad, Post Office Box 15, Mechanicsville, MD 20659 and your local Animal Shelter. Arrangements by the Brinsfield Funeral Home, P.A.