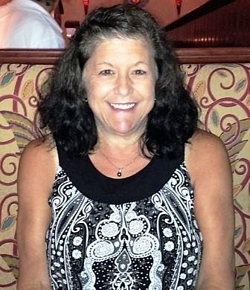 Linda Ann Peshoff, 56, of Lusby, Maryland, a loving and devoted wife, mother, and grandmother, departed on Tuesday, December 21, 2016. She was born in Middle Village Queens, New York on July 7, 1960 to Charlotte (Rosalia) and Michael Kraus (deceased). She attended Grover Cleveland High School and was raised the eldest of three.

After moving to Virginia she met the love of her life, Daniel Peshoff in 1987. They were married August 1, 1991, in Cameron, Louisiana. They spent twenty five years in a marriage full of love and happiness. Linda was a loving mother who devoted her life to raising her children Jaqueline Tuzzo Abitol, Melissa Tuzzo, Renee Peshoff and two step children, Danielle and Ricky Peshoff.

In 2002 Linda and her family moved to Lusby, Maryland, where she lived out the rest of her life. She enjoyed spending her time searching for antiques to fill her home and create a loving and nurturing environment. She treasured entertaining friends in her home, which was often proclaimed by all who visited as something out of a country sampler magazine. She made sure to decorate her home in such a way that made it feel as if you were getting a "Warm hug from a good friend."

Linda treasured working for hours in her gardens to create an inviting entrance to her home. It is almost impossible to put into words just how compassionate Linda really was. She was passionate about her family, her friends, and her pets. Her love for life was infectious to all of those who were fortunate enough to know her.

She was preceded in death by her father Michael Kraus and her stepdaughter who was more like one of her own, Danielle Peshoff. Linda is survived by her loving husband Daniel, and children and 2 granddaughters, Eliana and Gavriela Abitol, her Mother Charlotte Kraus, sister Donna Lanigan and brother Michael Kraus and a host of other family and friends.

A Memorial Service will be held at Rausch Funeral Home, 20 American Lane, Lusby, MD 20657 on Thursday, December 29, 2016. The family will receive visitors between 5 and 6pm and a Life Celebration Service will be held at 6pm. In lieu of flowers, the family asks that contributions be made in the name and honor of Linda to S.M.I.L.E, 10290 H.G. Trueman Road, Lusby, MD 20657 or the Calvert Animal Welfare League, P.O. Box 1660 Prince Frederick, MD 20678. Arrangements by Rausch Funeral Home.