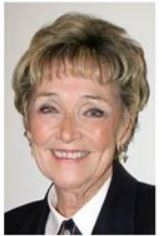 Geraldine Theresa Combs, also known as Gerri, age 65, died peacefully on December 21, 2016 surrounded by her loving family in Lusby, MD after a struggle with cancer. Geraldine was born on June 9, 1951 in Pennsylvania, the daughter of James P. Coughlin and Patricia Coughlin.

Geraldine thoroughly enjoyed life every day. She enjoyed her work with the US Government, Office of Personnel Management as a Federal Investigator. Geraldine recently retired with 40+ years with the Federal Government. Gerri loved the beach and her favorite place was always in Ocean City with friends she met through the years or making treasured family memories.

Geraldine was greatly involved with the Solomons Island Yacht Club where she was the Vice Commodore and she was the Commodore Elect when she passed. Gerri's involvement with the Solomons Island Yacht Club was her favorite hobby. She involved herself with organizing and planning events and enjoyed the gathering of members and friends. You could always count on her with Football Sundays and her love of the Washington Redskins. Geraldine is also an alumnus of the Class of 1969 from LA Rein High School in Suitland, MD.

Geraldine was a mother to one daughter, Celeste Church, Lusby, MD. She was the mother in law to Jerome Church, grandmother to two granddaughters and a great grandmother to one grandson.

Gerri is survived by her 6 sisters, Diane Hoernke of Wisconsin, Louise McDonald of Mechanicsville, Sarah Davis of Lusby, Mary Francotti of New Jersey, Catherine Vecchio of Florida, Margaret Snyder of Georgia and one brother James Coughlin of Mississippi; and a number of other relatives and close friends.

Family will receive friends on Wednesday, December 28, 2016 from 10:00 a.m. until 11:00 a.m. with a memorial service following at 11:00 a.m. at Our Lady Star of the Sea Catholic Church, 225 Alexander Street, Solomons, MD 20688. After the service, everyone is invited to a Celebration of Life for Geraldine at the Solomons Island Yacht Club, located in Solomons Island, MD. Bring your favorite BLING/BALLOON to share in her memory. We will celebrate with FABULOUS PRIZES and memories of this amazing woman.

Memorial contributions may be made to the Calvert Animal Welfare League, P.O. Box 1660, Prince Frederick, MD 20678 or Echo House, P.O. Box 2764, Prince Frederick, MD 20678. Arrangements by Rausch Funeral Home.