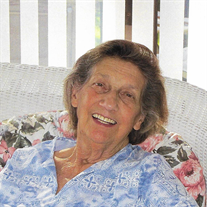 Charmaine "Charlie" Lilene (Fox) Tilghman of Huntingtown, MD, passed away on Saturday, December 17, 2016, at the age of 89. She was born November 18, 1927 in Syracuse, NY to Madeline (Hodot) and Roland T. Fox.

Charlie was the beloved wife of the late Gilbert Tilghman and loving mother of Gilbert Tilghman, II, Caren L. Thorne, Michael Tilghman and the late Barbara Tilghman. She was the devoted grandmother of six grandchildren and three great-grandchildren. She is also survived by her sister Suzanne Hitte and numerous other family and friends.

Memorial contributions may be made in her memory to the Huntingtown VFD & Rescue Squad, Inc., P O Box 482, Huntingtown, MD 20639. Arrangements by Lee Funeral Home.