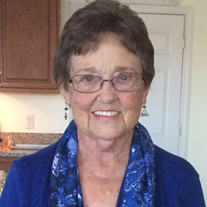 Margaret Schultz Buff, originally of Scottsboro, AL passed away in Prince Frederick, MD on December 19, 2016, surrounded by her loving family. She was born on June 7, 1938 to the late William Elton Schultz and Wilda Elizabeth Butler. Margaret dedicated her life as a military spouse for over 30 years and matriarch of the Buffs of Calvert County, MD.

Margaret was preceded in death by her beloved husband Colonel (R) Max LaDon Buff. They would have been married 60 years this past May. She is survived by her brother William Earl Schultz; her children and their spouses: Max LaDon Buff II (Linda), Geoffrey Delane Buff (Maria), Kevin Rene Buff (Jaimie), Lisa Margaret Brown (Craig), Stacy Maria Petropol (Steve) all of Prince Frederick, MD; 14 grandchildren: Max LaDon Buff lll, Allison Buff Chin (Chris), Sarah Buff Edwards (Aaron), Nicholas Brown, Ryan Buff, Christina Buff, Melissa Buff (fiancé Eric Barbye), Amanda Brown, Jesse Buff, Elena Buff, Samantha Brown, William Buff, Lilia Petropol, and Lucia Petropol; and 5 great grandchildren: Tabitha Buff, Samantha Buff, Brandon Chin, Noah Edwards and Zachary Chin.

Interment will be in Arlington National Cemetery at a later date. In lieu of flowers please consider donating to Calvert Hospice by visiting http://calverthospice.org/make-a-gift/. Arrangements by Lee Funeral Home.