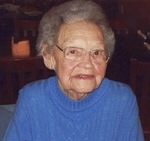 Eileen Amole of Avenue, MD passed away on December 14, 2016 in Leonardtown, MD. Born on November 1, 1925 in Quinnimont, WV. She was the daughter of the late Susan Martin and Ernest Plumley.

Eileen was the loving wife of the late Walker Adair "Pete" Amole whom she married in Arlington, VA in 1963, and who preceded her in death on September 10, 1994. Eileen is survived by her children: Patricia Ward of Columbia, MD, Fred L. Huber of Fairfax, VA, granddaughter Jennifer Ward of Laurel, MD, and great granddaughter Hope Ward of Columbia, MD. Siblings: Charles Plumley, Juanita Motor, Mary Persinger, Nancy Sweeney, Henry Plumley, and James Plumley. She was preceded death in by 5 brothers and 3 sisters.

Eileen was a St. Mary's County, MD resident for 40 years. She worked at the Sheraton Park Hotel in Washington, DC as a payroll master for 27 years retiring in October, 1987. Eileen was a member of the American Legion Auxiliary Post 221 in Avenue, MD, Daughters of the King, and Red Hat Society. She volunteered for St. Clements Museum, and Meals on Wheels. Eileen hobbies included: reading, quilting, gardening and traveling. Eileen loved Red Flowers and always said this is what she would love to have at her service.

The family will receive friends on Thursday, December 22, 2016 from 12:00 PM - 1:00 PM in All Saints Episcopal Church in Avenue, MD. A Funeral Service will follow at 1:00 PM in All Saints Episcopal Church with Rev. Kathleen Price officiating. Interment will follow in the church cemetery. Contributions may be made to your favorite charity. Arrangements by Mattingley-Gardiner Funeral Home.