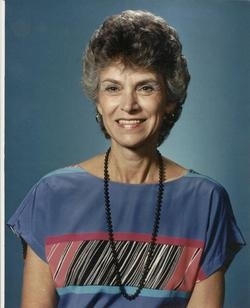 Frances Davis "Tiny Lou" Owens, 78, of St. Inigoes, MD passed away peacefully in the comfort of her home the morning of December 14, 2016. Born July 4, 1938 in Ridge, MD she was the daughter of the late Charles Edward Davis, Sr. and Irene Luella Price.

Tiny Lou is a graduate of St. Michael's Elementary and High School, earned an Associate of Arts degree from St. Mary's College of Maryland. She was employed by the Department of the Navy for over 27 years until her retirement in 1993. She also took evening classes and earned a Bachelor's Degree in Information Technology from University College, University of Maryland in 1989 which she was very proud of. On November 22, 1975, she married her beloved husband, John Willard "Jack" Owens in St. Mary's City, MD. Together they celebrated over 41 wonderful years of marriage.

Tiny Lou was a devoted wife, mother, grandmother, and friend to many. Her hobbies include flower and vegetable gardening, cooking, and especially sewing and quilting. She had a natural talent and even sewed her own clothes as a child. Her beautiful handmade ornaments, stockings, vests, and cozy quilts will forever be a reminder of her special gift. However, her family was her greatest love and she especially enjoyed spending time with her granddaughters, whom she assisted caring for when they were young.

She was an active member of the American Legion Auxiliary Post 255 in Ridge, MD since 1975, where she served as president in 1981 and 1982. She enjoyed participating in Legion events and was a Ladies of Charity volunteer. She was also a member of St. Cecilia's Catholic Church in St. Mary's City, MD.

In addition to her beloved husband, Jack, Tiny Lou is also survived by her daughter, Deborah Querry Siebenmark (Robert) of North Myrtle Beach, SC; her siblings, Betty Davis Aldridge (Gordon) of Ridge, MD and Charles Edward Davis, Jr. of Ridge, MD; her granddaughters, Kayla Siebenmark of California, MD and Holly Siebenmark of North Myrtle Beach, SC; and many extended family and friends. She is preceded in death by her parents.

Family will receive friends for Tiny Lou's Life Celebration on Friday, December 16, 2016 from 5:00 till 8:00 p.m., with a prayer service at 7:00 p.m., at St. Michael's Catholic Church, 16566 Three Notch Road, Ridge, MD 20680. A Mass of Christian Burial will be celebrated by Reverend Scott Woods on Saturday, December 17, 2016 at 10:00 a.m. at St. Michael's Catholic Church. Interment will follow in the church cemetery.

Serving as pallbearers will be Jason Aldridge, Jeffrey Davis, Brian Norris, Mike Owens, Steve Owens, Brian Owens and Jerry Owens. Honorary pallbearers will be member of the American Legion Auxiliary Post #255 Ridge. In lieu of flowers, memorial contributions may be made to Ridge Volunteer Rescue Squad, P. O. Box 456, Ridge, MD 20680 and the Alzheimer's Association of Maryland, 10665 Stanhaven Place, Suite 205D, White Plains, MD 20695. Arrangements by the Brinsfield Funeral Home, P.A.