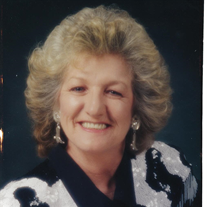 Marilyn Jean Littlejohn, 69, of White Plains, MD passed away on December 12, 2016 at St. Mary's Hospital. She was born on May 16, 1947 in Newark, NJ to the late Thomas and Anna (Riffle) Windle. Marilyn was a loving and devoted wife, mother and grandmother. She was a member of the Waldorf Jaycees.

She was active in the community having volunteered as her daughters cheerleading coach, PTA and working with troubled youth. She was a caring individual and loved dogs. She enjoyed decorating for every holiday. She loved going to the beach especially the Jersey Shore. She was very proud of her New Jersey roots and was known around Charlotte Hall Veterans Home as "Jersey Girl".

In addition to her parents she was predeceased by two brothers; Thomas and Robert Windle, and one sister Jackie Norcott. She is survived by her husband Thomas Gerald Littlejohn, Sr., two daughters; Theresa Leitch (Greg) and Cathi Varnell (Rodey), one son Thomas (Tj) Littlejohn; son in law Brian; four grandchildren; Brandon Leitch, Noah Varnell, Nate Leitch and Jonah Varnell, two sisters; Joann Fowler and Marianne Calomeris (John) and many nieces and nephews.

Visitation will be on Friday, December 16, 2016 at Raymond Funeral Service, 5635 Washington Ave, La Plata, MD 20646 from 12:00PM from 2:00PM with funeral service beginning at 2:00PM. Interment will be private. Memorial contributions are requested to Alzheimer's Association, 10665 Stanhaven Pl, Suite 205D, White Plains, MD 20695 and/or American Diabetes Association, 2451 Crystal Drive, Suite 900, Arlington, VA 22202. Arrangements by Raymond Funeral Service.