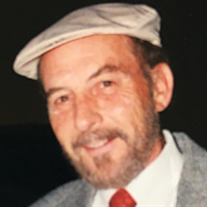 Norman John "Norm" Sullivan, 78, of Waldorf, MD died on December 8, 2016 at Holy Cross Hospital in Silver Spring, MD. He was the son of the late Norman Thomas Sullivan and the late Marjory Elizabeth Wendell Sullivan.

Norm was Computer Systems Analyst for 43 years with UNISYS in Tysons Corner, VA. He was a Veteran of the United States Navy, having served during Vietnam. Norm was of the Catholic faith and a parishioner of St. Joseph's Catholic Church in Pomfret, MD. He loved hunting, fishing and hiking and was an avid outdoorsman. His favorite bands were Fleetwood Mac and Celtic Woman. Norm was proud of his Irish heritage and the Green.

Norm is survived by his loving wife of 32 years, Ok Pun Sullivan; one son, James T. Sullivan, and his wife Lynn; three daughters, Kathleen A. Newton, Teresa A. Untiedt, and Amy K. Sullivan; and one brother, Brian Sullivan. He is also survived by eight grandchildren, Meganne, Ryan, Corey, Logan, Kristopher, Patrick, Caleb, and Teagan; and four great-grandchildren, Margaret, Marilla, Sophie, and Lincoln.

Friends received on Tuesday, December 13, 2016 from 10:00am until time of Funeral Mass at 11:00am at St. Joseph's Catholic Church, Pomfret, 4590 St. Joseph's Way, Pomfret, MD 20675. Interment will be private. Arrangements by Raymond Funeral Service.