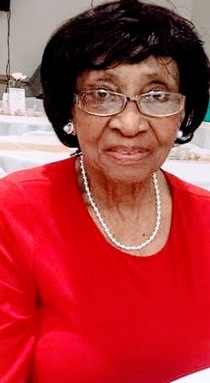 Dorothy Eleanor Baker, 89 of Newport, MD passed peacefully on December 9, 2016 at University of Maryland Charles Regional Medical Center located in La Plata, MD. Dorothy was born on July 1, 1927 in Wicomico, MD she was the daughter of the late Stanley and Nettie Herbert Dade. Dorothy was the wife of the late Joseph (Buck) Baker Sr., whom preceded her in death on July 15, 2014.

She was educated in Charles County Public School System and graduated from Bel Alton High School however, her greatest achievement was raising 13 children in a loving home. In addition to her parents and husband she was preceded in death by her daughters, Jacqueline and Shirley Mae; son, Larry P.; grandson, Julius Jamal; siblings, James, Joe, Arthur, Clayton, John, Eddie, Florine, Mary, Mable, Kate, Eva and Viola.

Dorothy was a devoted Roman Catholic and longtime member of St. Mary's of Newport Catholic Church. Even after she and her late husband moved out of the area due to his illness she still continued to support her church through weekly offerings.

She was a devoted housewife and loving mother who never missed an opportunity to be feisty and to put you in your place. Dorothy enjoyed spending time with her grandchildren, playing cards (Deuces), completing word search puzzles, and casino trips to play slots. When she was more active, black Friday shopping was an annual tradition with her daughters. She also enjoyed Sunday Family dinners and annual Christmas breakfast with country sausages. A very thrifty saver, she instilled financial values and strong work ethics in her children.

Her favorite TV shows were soap operas (All My Children, Young & Restless and General Hospital), game shows (Price Is Right, Family Feud, Let's Make a Deal, and Jeopardy); her favorite movie was Dirty Dancing with Patrick Swayze, attending gospel concerts and oldies but goodies music especially Roy C. Anyone who visited Dorothy's home became family and raved about her food specifically her fried chicken and sweetened iced tea. Young at heart Dorothy was a fashionable dresser and relished at being told she could pass as one of her daughters.

Dorothy leaves to cherish and celebrate her memories, her loving children, Gregory (Anne), Lana, Annette (Michael) Parks, Joyce, Joseph Jr., Julius Marvin (Diana), Deborah Thornhill, Anthony, Carla, Denise and Craig; 18 grandchildren to mourn her death, Derek (Brenda), Shawnree, Tananya (Derrick), Malik, Lamont, Marketta Nicole (Owen), Sarah (Danny), Renatta, Cheyna, Bryan, Jamiel, Antonio, Tiara, Henry (Hank), Julius (Marcus), Ricca, Briana, Anthony Jr. (AJ); 17 great grand-children; sisters-in law, Pauline and Mary Lorraine Baker; and brother-in law, Joseph David and a host of nieces, nephews, other relatives and friends. And a special son and daughter, Eric and Rhonda Bullock and special nieces, Audrey Proctor, Loris Somerville and Terrance (Terri) Bush. Lastly, a special and dear friend, Agnes Curtis. Arrangements by Arehart-Echols Funeral Home.