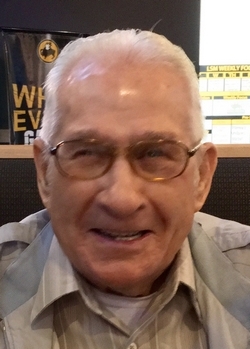 Harold Lamar "Dick" Sheppard, 93, of Augusta, GA passed away peacefully on December 5, 2016 in Solomons, MD. He was born on December 12, 1922 in Avera, GA to the late William Luther and Clara Hadden Sheppard. He was the beloved husband of Johna E. Sheppard whom he married on July 5, 1942 and preceded him in death on October 19, 2010.

Dick graduated from Avera High School and went on to join the U.S. Air Force. He was a veteran of WWII, Korean War, and was part of the second wave of deployment on the Anzio Beach Landing in 1944. He retired from the U.S. Air Force in 1963 after 22 years of distinguished service.

Dick is survived by his daughters, Ann Jilka and her husband Rodney of Salina, KS, and Kay Sexton and her husband Wayne of Lusby, MD; siblings, Evelyn S. Faglier of Warrenton, GA, and Hadden Sheppard of Augusta, GA; 4 Grandchildren, 3 Great Grandchildren, and 3 Great- Great Grandchildren. He was preceded in death by his parents, wife, and siblings, Horace Sheppard, Ruth S. Dye, Vera S. Dye, Ethel S. Giles, Johnnie S. Tyner, and William E. Sheppard.

The family will receive friends on Sunday, December 11, 2016 from 3:00 PM until 5:00 PM at the Thomas Poteet & Son Funeral Home, 214 Davis Road, Augusta, GA. Funeral Services will be held on Monday, December 12th at 11:00 AM in the funeral home chapel. Interment will follow at Pleasant Grove Baptist Church Cemetery with military honors.