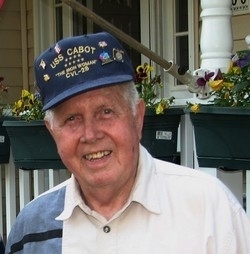 Paul Francis Ludwig, 94, of California, MD formerly of Leonardtown, MD passed away at his residence surrounded by his loving family on December 6, 2016. He was born in New Brighton, PA on February 23, 1922 to the late William Alfred Ludwig and Alice McQuillan Ludwig.

Paul is a 1940 graduate of New Brighton High School. He proudly enlisted in the United States Navy and served his country from 1942 to 1946 as a Storekeeper First Class until his honorable discharge. During his service he earned the Pacific Theater Ribbon, Good Conduct Ribbon, American Theater Ribbon and Victory Medal.

On June 19, 1946 he married his beloved wife, Catherine (Kitty) Eulalia Lawrence in Avenue, MD. Together they celebrated over 70 wonderful years of marriage. He was employed by the Federal Government at Patuxent River Naval Test Center as an accountant until his retirement in 1977. After retirement he was the Inspector for the Liquid Board. Along with several other interested parents, he and Kitty helped to form the Maryland Association of Retarded Children, currently known as the ARC in St. Mary's County. At this time, there were no special education programs in St. Mary's. The program was started with five children.

Every year a charity ball was held at the Knights of Columbus for fundraising. He wrote a book about founding the ARC called "The Opening Door." His hobbies included singing in the church choir, camping, and visiting his daughter in the summer in California. He was a member of the Knights of Columbus since he was 20 years, and was a past Grand Knight. He was a member of the barber shop chorus, Association for Autistic Children, the Metropolitan Commission Water and Sewer Authority.

In addition to his beloved wife, Paul is also survived by his children: Mary Sandra Serrano (Gabriel) of Ventura, CA, Lawrence B. Ludwig (Mary) of Leonardtown, MD, Donald Paul Ludwig of Bowie, MD, and David Joseph Ludwig of Ridge, MD; eight grandchildren and 10 great grandchildren. In addition to his parents he is also preceded in death by his brothers, William Alfred, John Robert and Burton Ludwig.

Family will receive friends on Monday, December 12, 2016 from 10:00 to 11:00 a.m., with a Mass of Christian Burial celebrated by Revered David Beaubien at 11:00 a.m. at St. Aloysius Catholic Church, 22800 Washington Street, Leonardtown, MD 20650. Interment will be private. Serving as pallbearers will be David Michael Colvin, Stephen Edward Fulks, Samual Edward Fulks, Guy Patrick Combs, John Mickey Ramos and Kyle Houston Ballard.

Honorary pallbearers will be George Choporis, Robert Dean, and the Knights of Columbus. Memorial contributions may be made to the ARC of Southern Maryland, 25470 Point Lookout Road, Leonardtown, MD 20650. Arrangements by the Brinsfield Funeral Home, P.A., Leonardtown, Maryland.