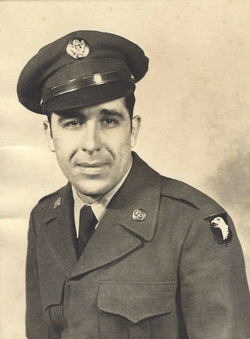 Salvatore "Sam" James Latona, 84, passed away peacefully at Hospice House of St Mary's in Callaway, MD on December 5, 2016. His beloved daughter was by his side. He was born in Exeter PA in 1932 to Italian immigrants Giuseppe Latona and Concetta Pardo Latona of Sarradifalco Sicily.

He lived most of his life in Pittston, PA where he graduated from high school and then attended Penn State. He worked as a Mechanical Engineer and machine designer his whole career until he retired in 2001. He proudly served our country as a Army Sargent during the Korean Conflict seeing combat and being honorably discharged as a disabled veteran.

He met the love of his life, Mary Frances Noone in 1955 when he was her patient at Pittston Hospital where she was a nurse, attending to his broken finger. They married in August of 1957 and had 3 beautiful children; Joseph (57) of California MD, Patrick (55) m. Dawn Van Luvender of Dickinson TX, and Kathleen (51) m. John Boyles of Leonardtown MD.

He is survived by his wife and children and grandchildren Megan Latona, Michael Latona, Holden Boyles and Henry Boyles. His brothers Leo Latona of Wilkes Barre PA, Louis Latona of Lake Worth, FL and Peter Latona of Pittston PA, many nieces, nephews and cousins. He was preceded in death by his parents, a brother, Joseph Latona and sisters Louise Navarro and Grace Sapparito.

Sam loved his children and wife most in the world. . He passed his love of science and technology onto his children. He was a devoted Catholic. He was thoughtful and generous, always staying in touch with his extended family and willing to give you anything he had. He loved shopping and then returning everything he bought. He brought smiles and joy to the people he encountered in his life.

Family and friends please join on December 8 from 10:00 to 12:00 with a Funeral Service at 12:00 pm at the Brinsfield Funeral Home, 22955 Hollywood Road, Leonardtown, MD. Family will greet friends at Kevin's Korner Carryout in Leonardtown MD. Funeral services will be held in Pittston, PA at a later date. In lieu of flowers donations made be made to Hospice of St Mary's, who treated our father like a king. Arrangements by the Brinsfield Funeral Home, P.A., Leonardtown, Maryland.