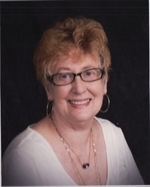 Ginger was born in Leonardtown, Maryland to Joseph A. (Barts) Latham and Mary Laura Bailey Latham. She attended Our Ladies Catholic School in Medley's Neck through elementary and middle school. Ginger graduated from St. Mary's Academy High School in 1956. She served as a secretary of Father Andrew White Catholic School from 1972- 1989, where she won the hearts of students and befriended many of the Sisters of Charity of Nazareth with her warmth and sense of humor. She worked for the St. Mary's County Public Works Department until her retirement in 2004.

She is survived by her husband of twelve years, John Allen Freeman, her sister Shirley Hayden, and four children: Robert G. Mattingly, Jr., (Susan), Gina Lynn Schaidt (Dan), Donna Clair Mattingly and David Randall Mattingly. Ginger is also survived by her six grandchildren: Katelyn Mattingly, Robert Schaidt, Krista Schaidt, Justin Owens, Rachael Owens, and Alex Mattingly.

Ginger was first and foremost an artist, both musically and visually inclined. She was a gifted vocalist, organist, pianist and a member of the Sweet Adelines. She performed for many weddings, funerals, church services, and other occasions in St. Mary's County over the course of her life. She was also a talented seamstress and embroiderer, painter, gardener, and lover of all crafts.

In particular, she enjoyed breathing new life into old household objects by painting flower pots chairs, lamps, and dishes into art; each Christmas she would give friends and family ornaments she had created using recycled light-bulbs. In addition to these talents, she was an avid stained-glass collector and artisan. Her stained glass windows have been featured in local churches, and up until her passing she hosted classes on stained-glass working out of her home.

Visitation will be on Thursday, December 8, 2016 from 5:00 PM-8:00 PM with prayers beginning at 7:00 PM at the Mattingley-Gardiner Funeral Home in Leonardtown with Pastor Dan Moore. A Mass of Christian Burial will be celebrated on Friday, December 9, 2016 at 11:00 AM at St. Aloysius Catholic Church Leonardtown, MD with Father David Beaubien officiating. Interment will follow in the church cemetery. Pallbearers will be: George Hayden, Jr., George Hayden,III, Brian Hayden, Eric Joseph, Rodney Madewell, and Justin Owens. Honorary Pallbearers will be: George Hayden, IV, and Michael Hayden.

The family requests that in lieu of flowers, donations be made toward the construction of a new church building for the Callaway Baptist Church, where Ginger's most recent stained-lass window will be hung. Donations can be made out to "The Building Fund", Callaway, Baptist Church, 20960 Point Lookout Road Callaway, MD 20620. Arrangements by Mattingley-Gardiner Funeral Home.
Ginger knew the Lord and waits now for those who will be welcomed after her into Heaven.