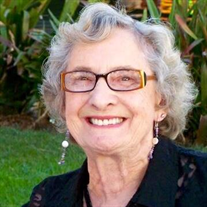 Mary Blincowe Gebicke, 90, of La Plata, MD passed away on December 2, 2016 at Genesis Waldorf Center. Mary was born on August 17, 1926 in Northampton, England to the late Thomas and Harriet (Bullwright) Blincowe.

She worked for a few years at JC Penney, however most of her life was devoted to caring for her family. She was on two bowling leagues, United Airline and Washington Gas Light. She was an active member at the Clark Senior Center where she received many awards for heading up the Flea Market. She loved playing Pinochle at the Clark Center and BINGO at the American Legion, where she was known to play 23 cards and once.

In addition to her parents she is predeceased by her husband Louis W. Gebicke, one son Roger W. Gebicke and six British brothers and sisters.
Mary is survived by her son Thomas L. Gebicke (Donna), two grandchildren Thomas S. Gebicke (Cassie) and Meagan M. Gebicke, one great-granddaughter Madison M. Battaglia, one step great-grandson Ethen Cohen, brother in-law Elwood W. Cooke and sister in-law Doris Ann.

Family and friends will be received on Friday, December 16, 2016 from 9:30AM until time of Memorial Service at 10:00AM at Raymond Funeral Service, 5635 Washington Ave, La Plata, MD 20646. Inurnment will be at a later date at Arlington National Cemetery. Memorial contributions are requested to Alzheimer's Association, 10665 Stanhaven Pl, Suite 205D, White Plains, MD 20695. Arrangements by Raymond Funeral Service.