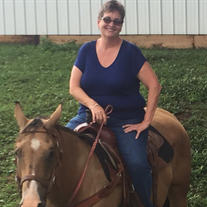 Joanna Martenis "Jo" Owens, 58, of Huntingtown, MD passed away on Saturday December 3, 2016 in her home surrounded by her loving family. She was born in Elkton, MD on May 30, 1958 to Kathleen (Welker) and Fred W. Martenis. Along with her parents, she is survived by her son James Rega and his wife Betty, granddaughter Carmen and a brother Jake Martenis and his wife Lea.

Jo was a veteran of the United States Army. She was a registered nurse at Calvert Memorial Hospital since 2001. Jo enjoyed quilting, gardening, her dogs and spending time with her family, especially her granddaughter.

Her family would like to extend a special thank you to the nurses, doctors, and staff at Calvert Memorial Hospital and Calvert Hospice who made her last days comfortable, especially Stephanie Adams, Taryn Morgan, and Lil Moore. In lieu of flowers donations may be made to Calvert Memorial Hospital Foundation. Arrangements by Lee Funeral Home.