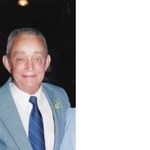 James Oakley Tennyson (Jackie), a life-long resident of Chaptico, MD passed away on December 3, 2016 at St. Mary's Hospital surrounded by his loving family. Jackie was born on April 1, 1939 to Raymond and Thelma Tennyson. With nine siblings, Jackie grew up in the small town of Chaptico learning how to love and provide for a large family. Marrying young and fathering 6 children of his own, he quickly put that knowledge to good use.

Throughout his life, Jackie enjoyed hunting, playing pitch, watching horse races, NASCAR, baseball, watching the Redskins win, and western movies. Mostly, though, Jackie enjoyed spending time with his large, loving family especially during the Thursday night dinners he and his wife, Monkey, hosted for them each week.

Jackie and his wife owned and operated Chaptico Market for nearly 50 years. He was known for speaking to each customer as though they were a friend and, more often than not, they became exactly that. He was a treasure to his community, his friends, and his family. He had a huge heart and a larger-than-life personality and will be greatly missed by all.

Jackie leaves behind his adoring wife of 58 years, Mary Virginia Wood Tennyson (Monkey). He also leaves his children, Jamie, Robbie (Dawn), Ronnie (Gwen), Donnie (Kathy), Greg (Lisa) and a son-in-law, Billy Schoenbauer. He leaves behind several siblings Mary (Joyce) Green, Catherine (Kitty) Bowling, Dorothy (Dot) Guy, Mary (Bert) Bowling, and Francis (Bo) Tennyson. He leaves behind 19 grandchildren and 25 great-grandchildren, a legacy that made him proud.

Many of his adored family members have gone before him in death. He joins his daughter, Deborah Schoenbauer and his parents, Raymond Tennyson Sr. and Thelma Tippett Tennyson. He is also preceded in death by his siblings, Raymond Tennyson Jr., Betty Ann Tennyson, Jean Langley, and Robert (Bobby) Tennyson.

Family will receive friends on Tuesday, December 6, 2016 from 5:00pm-8:00pm with prayers being recited at 7:00pm at Mattingly Gardiner Funeral Home, P.A. 41590 Fenwick St., Leonardtown, MD 20650. A Mass of Christian Burial will be celebrated on Wednesday, December 7, 2016 at 10:00am by Father Charles Gallagher at St. Joseph's Catholic Church, 29119 Point Lookout Rd., Morganza, MD 20660. Interment will follow at St. Mary's Queen of Peace Cemetery, 38888 Dr. Johnson Rd., Mechanicsville, MD 20659.

Friends are invited to join the family in celebrating Jackie's life after the graveside services at Bowles Farm, 22880 Budd's Creek Rd., Clements, MD 20624. The pallbearers are Jackie's 7 grandsons, Gary Tennyson, Jimmy Tennyson, Greg Tennyson, Brad Tennyson, Ben Tennyson, RJ Tennyson, Ryan Klock , and long-time family friend, John Keenan. Honorary pallbearers will be Jackie's 12 grand-daughters.

The family wishes to express their sincere gratitude to the wonderful staff at St. Mary's Hospital for serving their patriarch in his most vulnerable hours and also to all the dear friends who have shown so much support over the past several days. The care and compassion shown to Jackie and his family will never be forgotten. Arrangements provided by Mattingly-Gardiner Funeral Home. In lieu of flowers, donations may be made to the Mechanicsville Rescue Squad or Hospice of St. Mary's.