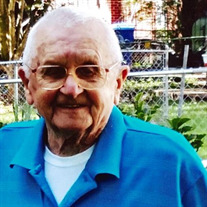 Hayward Kenneth Swisher, of Indian Head, Maryland died on Saturday, December 3, 2016 at the Charlotte Hall Veterans Home in Charlotte Hall. He was 91 years old. Born on January 22, 1925 in Weston, West Virginia he was the son of the late Harland A. Swisher and Lillie M. Swisher. In addition to his parents, Mr. Swisher was preceded in death by his wife Opal B. Swisher; son David K. Swisher; siblings Evelyn S. Mitchell, Donald, Ira K. and Charles E. Swisher.

Mr. Swisher served in the U. S. Navy for over 20 years before retiring as a Chief Petty Officer. While in the Navy, he served during World War II, Korean and Vietnam. Mr. Swisher then worked at the Naval Surface Warfare Center Indian Head as a Police Officer for 26 years. He was an avid bird watcher and a member of the Audubon Society. Mr. Swisher was also very active with the Indian Head Senior Center for many years.

He is survived by his children Barbara L. Chouinard, Mark H. and his wife Kathryn L. Swisher; daughter-in-law Amy J. Swisher; grandchildren James Chouinard, Seth Chouinard, Justin Chouinard, Stacy Pinar, Dominique Vassar, Vida Swisher and Caleb Swisher; 13 great grandchildren; brother Harold Swisher.

A visitation will be held on Tuesday, December 13, 2016 from 11 AM until time of service to begin at 1 PM at the Raymond Funeral Service, P.A. 5635 Washington Avenue La Plata, MD 20646. A private interment will be held at Cheltenham Veterans Cemetery. (Family only, please ). In lieu of flowers, memorial contributions may be made to the Charlotte Hall Veterans Home 29449 Charlotte Hall Road Charlotte Hall, MD 20622.