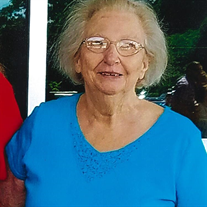 Selma Marie Swindell, age 77, of Cobb Island, MD died on December 3, 2016 at George Washington University Hospital in Washington, D.C. She was the daughter of the late Alton Eugene Thompson and the late Margaret Pearl Shifflett Thompson. She was also predeceased by her husband, Matthew Swindell; one son, George "Ed" Barnes, Jr.; two brothers, Phillip Thompson and Elbert Vernon Thompson; and one sister, Mary McKenney.

Selma was a Respite Care Provider for 10 years. She was a former member of Cobb Island Baptist Church and, for the last three years, a member of Callaway Baptist Church in Lusby, MD. She loved sewing, reading, riding her bike, watching television game shows, and playing Yahtzee.

She is survived by her three daughters, Peggy Sue Walker, Wanda Ann Greeley, and Paula Jane Adams; one brother, John Thompson; and one sister, Katherine Dennison. Also survived by 19 grandchildren and 32 great-grandchildren.

Friends received on Monday, December 12, 2016 from 9:00am until time of Funeral Service at 11:0am at Raymond Funeral Service, 5635 Washington Avenue, La Plata, MD 20646. Interment to follow at Dentsville Methodist Cemetery, Dentsville, MD. Memorial contributions, in Selma's name are asked to the American Diabetes Association, 1025 Connecticut Avenue, NW, Suite 1005, Washington, DC 20036, or to the American Liver Foundation, 39 Broadway, Suite 2700, New York, NY 10006. Arrangements by Raymond Funeral Service.