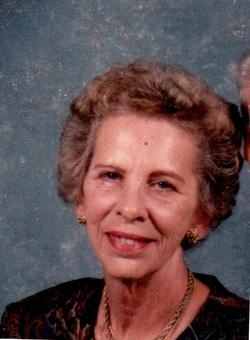 Alice "Joyce" Kabosky, 84, of Mechanicsville, MD passed away on December 1, 2016 at MedStar Georgetown University Hospital in Washington, D.C. Joyce was born on January 12, 1932 to the late June Edward Wallmark and the late Marie M. Montgomery in Washington, DC.

She greatly enjoyed spending time with her grandchildren, sewing, knitting, gardening, swimming and boating. Prior to becoming a fulltime homemaker, Joyce was the Executive Secretary to the President of Flying Tiger Line (Flying Tigers) in Washington, D.C. In her youth she was also the winner of the National Spelling Bee.

Joyce was predeceased by her husband, John Charles Kabosky, her brothers, Arthur Wallmark, Frederick Wallmark and sisters, Jean Jewell and Mabel Ann Neff. Joyce is survived by her daughters, Katrina Marie Kern (Anthony), Joyce Karena Kelley, and her son, John Henry Kabosky. Also surviving Joyce are her sister, Dolly Weiskopf and her brothers, Ralph Wallmark, William "Buzzy" Wallmark and John G. "Jerry" Wallmark; grandchildren, Ariel Dunn, Arden Kern, Alison Litton, Christiana Kelley, Morgan Kabosky and great grandson Oliver Dunn.

Family will receive friends for Joyce's visitation on Thursday, December 8, 2016 from 2PM to 4PM and 6PM to 8PM at Brinsfield-Echols Funeral Home, P.A., 30195 Three Notch Road, Charlotte Hall, MD 20622. A Mass of Christian Burial will be on Friday, December 9, 2016 at 11:00AM at St. Francis De Sales Church, 7185 Benedict Avenue, Benedict, MD 20612 with Reverend Kevin Cusick officiating. Interment will follow at Queen of Peace, 38888 Dr. Johnson Road, Mechanicsville, MD 20659. Expressions of sympathy in the form of memorial contributions may be made to St. Francis De Sales Church. Arrangements by Brinsfield-Echols Funeral Home.