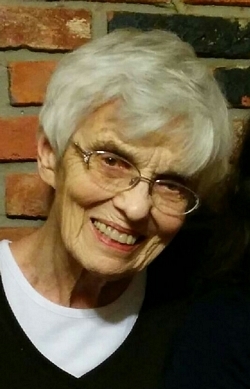 Joan Hens Voss, 86, of Sunderland, MD passed away December 1, 2016 at Prince George's Hospital Center. She was born April 6, 1930 in Buffalo, NY to Francis Xavier and Frances Bertha (Schneider) Hens. Joan was preceded in death by her parents Frank and Fay Hens, her brother Richard N. Hens and her beloved husband Fred.

An exceptional student, Joan was raised in Hamburg, NY and went to college in Buffalo, NY. She graduated from D'Youville College with a degree in English; she was also an active participant in the college's drama program and performed often in college productions. After college, she was employed as an elementary school teacher in Buffalo NY.

On January 28, 1956, Joan married Fred Edmund Voss in Hamburg, NY a marriage that lasted nearly 60 years before Fred's passing in 2015. As her family grew, she chose to stay home and care for her seven children (7GR8KDZ). During their marriage they lived in several locations, including Rochester, NY and Matawan and Westfield, NJ before settling in Sunderland, MD. Fred and Joan remained very much in love until his passing last year.

From 1982 to 1989, Joan was the Director of Religious Education at St. John Vianney Church and was later employed by the Calvert County Office on Aging, retiring in 1995. Even in retirement, Joan remained very active in the Catholic Church, as one of the founding members of Jesus the Divine Word Parish where she spent the majority of her free time assisting others.

The most important things to Joan were her family and Christian faith; and she lived out her faith on a daily basis, always willing to share the message of Jesus with a friend or a stranger. She was an ardent believer in the power of prayer to change lives. In 2002 Joan was awarded the Order of Merit. The highest honor a layperson can receive as a member of the Christian faith.

Surviving are her children Frederick J. Voss and his wife Gael of Linden, NJ, Richard F. Voss of Westminster, MD, Kevin C. Voss of Millersville, MD, Brendan G. Voss and his wife Danielle of Scituate, MA, Joanna M. Voss of Eldersburg, MD, Christopher M. Voss of Bowie, MD and Gregory M. Voss and his wife Maria of St. Augustine, FL; grandchildren Fred (Kelly), Jonathan (Kana), Marissa, and Gabriel and great-grandchildren, Tianna, Jacavian, Ashon, Khalil and Saya. Arrangements by Rausch Funeral Home.