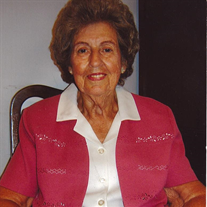 Lillian (Lily) I. Pickeral Padgett, 93, of Hughesville, passed away on December 2, 2016. She was born September 20, 1923 in Bolton (Waldorf) Maryland to the late Marcellus and Elizabeth (Adams) Pickeral. In addition to her parents, Lillian was preceded in death by her husband Joseph Lee; son Joseph; siblings Albert Levi, Joseph Milton, Cleveland, Archie, Raymond, Guy, Lorena, Norbert, Walter, Harry, Everett, Luther, Lola and Gwynette.

Lillian was a member of the original first grade class of Waldorf Elementary School and was a life-long member of Calvary United Methodist Church of Waldorf. She worked at the Navy Yard during World War II, and later, at NOS Indian Head. In 1973, she began working for the Charles County Board of Education in Food Services, with most of those years being at Milton Somers, retiring in 1994 as Manager.

She often spoke of the friends she made there and how much she loved all of the children. She was always looking for someone to feed! The 1994 Somers yearbook is dedicated to Lillian. She always had a friendly smile and hello for everyone she met. She loved to read and often expressed thankfulness for her education. She enjoyed the outdoors, and even into her later years, often seen cutting her grass.

She is survived by her children William of Sebring, FL, Robert (Maria) of La Plata, Brenda (Stephen) of Hughesville, daughter-in-law Leslie Jo of La Plata; grandchildren Christian, David, Robbie, Brian, Laurie, Pepper, Andrew; 10 great grandchildren. She had many friends, neighbors and care givers, each of which held a special place in her heart.

A visitation will be held on Friday, December 9, 2016 from 2 PM to 4 PM and from 6 PM to 8 PM at the Raymond Funeral Service, P.A. 5635 Washington Avenue, La Plata, MD 20646 where funeral services will be held on Saturday, December 10, 2016 beginning at 10AM. Interment to follow at St. Mary's Church Cemetery, in Bryantown, MD. Memorial contributions may be made to Alzheimer's Association or St. Jude's Children's Hospital. Arrangements by Raymond Funeral Service.