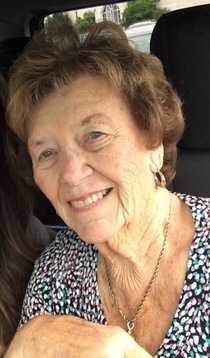 Barbara Finch Thayer, 82, of Cobb Island, MD passed away on December 1, 2016 at the University of MD Charles Regional Hospital in La Plata, MD. Born in Washington, DC on December 18, 1933 to the late Robert Hugh Rawlings and the late Thelma Higgs Rawlings.

Barbara is also preceded in death by her first husband, George W. Finch, Jr.; her son, Rev. G. William Finch, III; and one great grandchild. Barbara is survived by her husband, Donald M. Thayer; daughters, Lorraine Simpson (Bob), Susan Heilmeier (Gary); Kelley Rollins (Mark) and Cynthia Viering (Artie); son, Stephen Finch (Sherry); 16 grandchildren; and 20 great-grandchildren.

Barbara and George owned G&B Insulation from 1965 to 1995. She was a member of the Lady's Auxiliary, VFW Lodge and Lady's Golf League of Swan Point, where she was awarded 1st Lady's Champion of Swan Point Golf Club. For over 60 years Barbara was the pianist and organist for three local churches, the most recent being Cobb Island Baptist.

The family will receive friends on December 5, 2016 from 2-4PM and from 6-8PM at the First Baptist Church of Waldorf (10045 Bunker Hill Rd., Waldorf, MD) where a Funeral Service will also be held on December 6, 2016 at 12PM. Interment to follow at Trinity Memorial Gardens (3221 Mattawoman Rd., Waldorf, MD).

Pallbearers are Brian Aeschlimann, Mark Aeschlimann, Duane Linger, Jason Heilmeier, Andrew Finch, Mark Rollins, Jr., Jeff Viering and Keith Viering. In lieu of flowers, donations may be made in Barbara's memory to Cobb Island Baptist Church (P.O. Box 450 Cobb Island, MD 20625). Arrangements by Arehart-Echols Funeral Home.