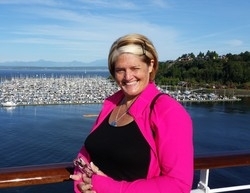 Meleny Heather Wallace, 49, of Piney Point, MD died Saturday, November 26, 2016. She was born December 13, 1966 in Eureka, CA to the late George Joseph O'Rourke and Deanna Dawn Riley of Billings, MT.

On April 11, 1990 Heather married her beloved husband, Troy Robert Wallace in Kalispell, MT. They spent the first 12 years of marriage travelling from one duty station to the next as a United States Marine Corps family. Heather's patriotism made her the perfect military spouse. Consequently, her loyalty and support to her husband's assignments were key in allowing him to successfully complete his career as a Marine.

On February 7, 1996, Heather gave birth to their beautiful daughter, Faith Riley, who is a junior at St. Mary's College. Heather and Faith enjoyed spending time together doing almost anything that involved conversation and shopping. They grew to be best friends. She celebrated 25 wonderful years of marriage with Troy during the summer of 2015.

They took their dream vacation to Alaska on a Christian cruise with InTouch Ministries and enjoyed the solitude of Alaska as they toured the country side. Heather and Troy were best friends, and their dedication to one another was evident anytime they were together. They enjoyed camping, coffee dates in the early morning hours, talking, shopping, and all things being together.

Heather's faith in God and her commitment to the Lord Jesus Christ was an everyday part of her life. Her faith was boundless, and she knew that one day she would be in a wonderful place sharing life with her heavenly Father. And so life for Heather continues in a place with no worries or sickness, and her family embraces and holds this truth close to their hearts.

Though she was taken quickly, she suffered little, which is a blessing from God. Her family will go on as Heather would have so encouraged them to do, but we will never be the same because sharing in her life was the very essence of our existence. She will never be forgotten. Her life is a testament of love, loyalty, happiness and making the most of every day.

In addition to her mother and loving husband, Troy, Heather is also survived by her daughter, Faith Riley Wallace of Piney Point, MD; brother, Derek Rookhuizen of Paris, France; in-laws, Oren and Jackie Wallace, Pembroke Pines, FL; and many extended family and friends. She is preceded in death by her father.

A Funeral Service will be celebrated on Friday, December 9, 2016 at 5:00 p.m. at Faith Bible Church, 26325 Three Notch Road, Mechanicsville, MD 20659. Interment will be private. In lieu of flowers, Heather's wish was to have memorial contributions to Angel Tree Foundation, a program of prison fellowship. Donations may be made at www.angeltree.org/donate. Arrangements by the Brinsfield Funeral Home, P.A., Leonardtown, MD.