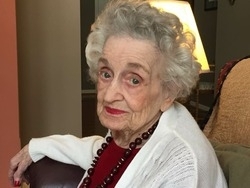 Mary Ellen Margaret (Carbone) Courtet, 95, of Leonardtown, MD died on Thursday, November 24, 2016 at her residence. She was born on September 30, 1921 in Webster, PA to the late Anthony Carbone and Jennie Laurenzo Carbone.

Margaret was raised in Western Pensylvania and graduated from Union Township High School, New Castle, PA and then graduated from the School of Nursing, New Castle Hospital on September 5th, 1944. She served in the United States Army from April 2, 1945 to June 30, 1946 during WWII as a Second Lieutenant. She served as a general duty nurse in a blind and orthopedic ward of the Valley Forge General Hospital in Phoenixville, PA and the 147th General Hospital in Hawaii. After her honorable discharge from the Army she worked as a dedicated and compassionate nurse for Morristown Hospital and as a private duty nurse until her retirement.

She loved to travel throughout the United States, Mexico and Aruba. She enjoyed taking cruises to see new places. She made many delicious meals, but was famous for her lasagna. She enjoyed gardening, playing BINGO, and playing cards, especially Rummy and Poker. However, her greatest enjoyment was spending time with her family, and her grandchildren whom she loved very much.

A Funeral Service will be celebrated by Reverend Raymond Schmidt on Tuesday, November 29, 2016 at 2:00 p.m. at Cedar Lane Apartment Complex, 22680 Cedar Lane Court, Leonardtown, MD 20650. Interment will be held at Arlington Cemetery at a later date.

Margaret is survived by her children: Linda Courtet Firneno (John) of Centerville, UT, Janet Louise Cristofori (Joe) of Aiken, SC, John Camille Courtet (Anne Marie) of Randolph, NJ, Laura Jean Nunn (Thomas) of Morris Plains, NJ and Mary Courtet Donovan (Kevin) of Hollywood, MD; 11 grandchildren: Jason Brown, John Firneno, Tommy Nunn, Jarrett Brown, Anna Courtet Kovac, Mattheu Nunn, Jenny Firneno Ricks, Michael Donovan, Jenna Donovan and Lauren Donovan, 7 great-grandchildren, and many extended family and friends. In addition to her parents, she is also preceded in death by four sisters: Mattiella, Michala Assunta (Minnie), Frances Louise and Lucy Louise and 5 brothers: Michaelangelo, Samuel A, John, Anthony and Samuel Frank and grandson Anthony Firneno.

Memorial contributions in honor of Margaret Courtet may be made to Friends of Cedar Lane, 22680 Cedar Lane Court, Leonardtown, MD 20650 or Hospice of St. Mary's, P.O. Box 625, Leonardtown, MD 20650. Arrangements by the Brinsfield Funeral Home, P.A.