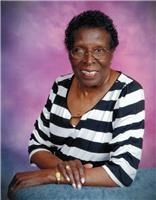 Lorraine Victoria Carroll was born to the late William Francis Carroll and Mary Victoria Carroll on July 11, 1941 in Beachville, MD. Lorraine let go and met God, departing this life on Thanksgiving Day, November 24, 2016. She was handed her Masters in a life well lived and boarded a flight to a paradise beyond this world.

Lorraine received her education at St. Peter Claver Catholic School and Cardinal Gibbons High School, where she graduated as the Valedictorian of her class in 1959. She relocated to Washington, D.C. and began working for Skyline Inn until she accepted a position with the Federal Government. After several years of Federal Government service, Lorraine retired and set out to enjoy her life doing some of the things she loved.

Lorraine loved spending time with her family and friends. Her passion was traveling. She loved to travel and would take her mother along with her. She was an avid fan of the Washington Redskins and was very personable. Because of Lorraine's friendly, extrovert nature, she effortlessly made friends and built everlasting relationships with them. Lorraine was extremely dedicated to her faith; loyal to her spirituality and loved her Lord.

Lorraine was preceded in death by her father, William Francis Carroll; her brothers, John Preston Wayne, William Kenneth, Joseph Allen, Carl Alexander, James Alphonsus Carroll and her sister, Mary Veronica Rothwell.

Lorraine leaves to cherish her memory her mother, Mary V. Carroll; her sisters, Carolyn J. Wilson (James), Angela M. Carroll; her brother, Martin D. Carroll (Brenda); her Godmother, Bertille Bryan; her Godsons, Theodore Crafton, Jr. and William Martinez Carroll; her best friend, sister and confidant, Alice Pollock; her two favorite cousins, Helen Drake and Phyllis Winston and a host of nieces, nephews, other relatives and friends.

Family and friends will unite on Saturday, December 3, 2016 for visitation at 10 am until Mass of Christian Burial at 11 am at St. Peter Claver Catholic Church, 16922 Saint Peter Claver Rd, St. Inigoes, MD. Interment to follow at the church cemetery. Arrangements by Briscoe-Tonic Funeral Home.