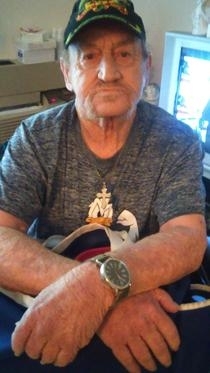 Francis Desales Swann, 73, of Prince Frederick, MD passed away in Washington, DC on November 22, 2016. Francis was born in Benedict, MD and named after his local Catholic parish. He was the son of the late Leonard and Helen Swann.

Francis worked as a truck driver and as a carpenter in the building industry. He enjoyed classic car shows, fishing and crabbing, but his true joy was spending time with children, especially his grandchildren.

Francis is survived by his wife, Patricia "Pat" Swann of Lusby, MD; three sons, Matthew Swann and his wife Jessica of Prince Frederick, MD, Mark Swan and Brittany Wathan of Lusby, MD and Tyler Lazaro of Lusby; two daughters, Heather Ireland and her husband, Jeff of Lusby and Krista Swann, also of Lusby; two sisters, Helen and Mary and five grandchildren, Alexis Swann, Alaynna Swann, Jordan Guensch, and Bailey and Lily Ireland. One son, Michael Francis Swann predeceased him. Arrangements by Raymond Wood Funeral Home.