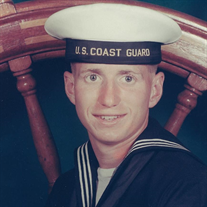 Donald Douglas Walls, 64, of White Plains, MD died on November 17, 2016 at Henrico Doctors Hospital, Richmond, VA. Donald was born on May 29, 1952 in Washington, DC to George N. Walls and the late Christa S. (Dörr) Walls.

Mr. Walls was a Veteran of the United States Coast Guard. He was a baker at the original Walls Bakery in Waldorf, MD. After his parents retired from the bakery business he would travel to Gladys, VA to help his father who he called "Pops" on the Walls Family Farm. He was a past member of Waldorf Volunteer Fire Department and White Plains Moose Lodge.

In addition to his mother he is predeceased by four brothers; George Walls, Jr, David Walls, Steven Walls and John Walls and one nephew Michael Raydean Howard.

In addition to his father he is survived by one brother Robert Walls, Sr. (Martha), one sister Christine Walls, sister in-law Dorothy Walls, four nieces; Christy Walls, Selina Walls, Cynthia Walls and Teresa Walls, three nephews; Robert Walls, Jr., Michael Joseph Walls and Mark Walls, ten great nieces and nephews; Ashley Farrell, Dezaree Brown, Gerald Farrell, Taylor Reynolds, Tyler Farrell, James Crawford, Jr., Savannah Herbert, Khyl Perry, James Quade and Emily Walls and one great-great nephew Liam Farrell.

A visitation will be on Wednesday, November 30, 2016 from 5-8PM at Raymond Funeral Service, 5635 Washington Ave, La Plata, MD 20646 where a service will be held on Thursday, December 1, 2016 at 11:30AM, Interment will follow at Cheltenham Veterans Cemetery, Cheltenham, MD. Arrangements by Raymond Funeral Service.