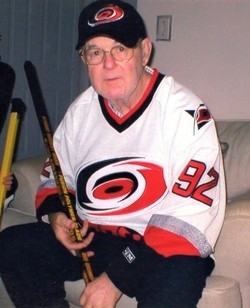 John Francis Cowles, 78, of Valley Lee, MD died peacefully in his sleep November 20, 2016 at Sagepoint Rehabilitation Center in LaPlata, MD. Born December 18, 1937 in Springfield, MA, he was the son of the late Wilbert and Ruth Cowles. Both parents died during his childhood so he was raised in Agawam, MA by his aunt and uncle, Ethel and Harry Cowles.

He graduated from Agawam High School in 1957 and joined the National Guard. In May 1959, he enlisted in the United States Navy, proudly serving 20 years as an in-flight avionics technician on a P3 Orion Crew. Tours of duty included Bermuda, Sicily, Iceland, Portugal and Spain. While active duty, John participated in Toastmasters and served as an Area Governor in Maine 1975 and 1976. He was stationed in Patuxent River, MD, Corpus Christi, TX, Memphis, TN, and finally Brunswick, ME where he retired June 5, 1979 as a Chief Petty Officer.

In 1979, he joined Tracor Systems Technologies which lead him to work on Navy submarines and ships as a civilian. Ironically, in his 20 year Navy career he never worked on a sea vessel. John retired from Tracor in June 2000 and enjoyed his retirement years running a flea market next to Linda's Café in Lexington Park, MD. He also worked part-time at the Mattress Center. John competed in many sports, including hockey, volleyball, bowling, golf, darts, and softball. John played softball on a senior league and was named Pitcher of the Year in 2007 and Sportsman of the Year in 1992.

John is survived by his wife of 54 years, Violet; his two daughters and their husbands, Julie Gillette (Glennon) of Fairbanks, AK and Danielle Kocinski (Michael) of Compton, MD; and his granddaughters, Nicolina Kocinski and Jada Gillette.

Family will receive friends for John's Life Celebration on Friday, November 25, 2016 from 5:00 to 7:00 p.m., with Prayers at 7:00 p.m., at Brinsfield Funeral Home, 22955 Hollywood Road, Leonardtown, MD 20650. A Funeral Service will be celebrated on Saturday, November 26, 2016 at 11:00 a.m. at St. George's Episcopal Church, 19167 Poplar Hill Lane, Valley Lee, MD 20692. Interment will follow in the church cemetery.

Memorial contributions may be made to St. George's Episcopal Church, P.O. Box 30, Valley Lee, MD 2069 and Second District Volunteer Rescue Squad, P.O. Box 1, Valley Lee, MD 20692. Arrangements by the Brinsfield Funeral Home, P.A., Leonardtown, MD.