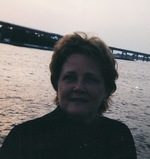 Diane Capalia, 64, of Great Mills, MD passed away peacefully on November 19, 2016, with her family by her side. She was born to the late Henry Clausen and Eileen Griffin, on October 1, 1952, in New York. She married Gregory Capalia in 1986, and they just celebrated their 30th wedding anniversary.

Diane was a registered nurse who enjoyed working in the operating room. She was passionate about taking care of her family and those around her. Diane loved spending time with her immediate family and beloved friends. She also enjoyed swimming, cooking with her grandchildren, and interior decorating.

She is survived by her four children Elizabeth Pitts, Lauren Nagle, Deborah Buchanan, and Nic Rogers and her 11 grandchildren, Andrew, Natalie, Cynthia, Hannah, Sarah, Rosie, Charlotte, Matthew, Liam, Henry, and Kiki.

A viewing will take place at the Mattingley-Gardiner Funeral Home in Leonardtown on Tuesday, November 22, 2016 from 1:30 PM - 3:00 PM and a Funeral Service will follow in the Funeral Home Chapel at 3:00 PM. In lieu of flowers, the family requests that donations be made to the Lupus Foundation of America. Arrangements by Mattingley-Gardiner Funeral Home.