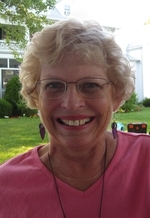 Karen Elena Russell passed away on November 15, 2016 at her home in Leonardtown, MD after a long and courageous battle with breast cancer. Born on September 25, 1942 in Chicago, IL, she was the daughter of the late Russell V. Quam and Shirley W. Quam.

Karen is survived by her husband of 54 years, Leon B. Russell and children: Kimberly R. Hargrave (Dan) of Virginia Beach, VA, and Kyle R. Russell (Julia) of Leonardtown, MD, four grandchildren and one great grandchild. She was preceded in death by her youngest daughter, Kirsten N. Russell. Siblings include Jim Quam (Cathy) of Eagle, ID, Randy Dunkelbarger (Deanna) of Chandler, AZ and Roy Dunkelbarger (Christy) of Fountain Hills, AZ.

Karen lived in southern Maryland since 1971. She was an artist for more than 40 years. In 1986, she was one of the founding members of the North End Gallery in Leonardtown, MD, where she exhibited her paintings and dyed silk scarfs. In addition, she taught art lessons at her studio and led a group of fellow artists each year for 25 years to the eastern shore of Maryland for a week of painting.

The family will hold a "celebration of Karen's life" at 2PM on December 12, 2016 at Belmont Farm, 24079 Budds Creek Road, (Rt. 234) Clements, MD 20624. In lieu of flowers the family suggest contributions to Hospice of St. Mary's, P.O. Box 625, Leonardtown, MD 20650 and North End Gallery, 41652 Fenwick Street, Leonardtown, MD 20650 or a Cancer Charity. Arrangements by Mattingley-Gardiner Funeral Home.