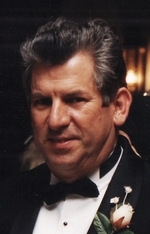 Lewis Clements "Tennie Baby/ Clements", 73 of Hollywood, MD passed away on November 10, 2016 in Hollywood, MD. Born July 10, 1943 in Leonardtown, MD, he was the son of the late Elizabeth Agnes Bowles and Lewis Clements Bowles.

He was the husband of the late Mary Helen Bowles whom he married on September 25, 1965 in St. John's Catholic Church, Hollywood, MD and preceded him in death on May 9, 2016. Lewis was a lifelong resident of St. Mary's County and he graduated from Margaret Brent in 1963. He was a Plumber for the Architect of the Capital for over 30 years, he enjoyed farming, fishing, playing pitch and visiting family.

Lewis is survived by his children; Francis Lewis Bowles, Sr. (Ellen) of Mechanicsville, MD, James Richard Bowles of Hollywood, MD, Joseph Scott Bowles of Hollywood, MD and Gene Michael Bowles of Glen Burnie, MD, siblings; Mary Gertrude "Patty" Lohrmann of Waldorf, MD, Clifton Byron "Tubby" Bowles of Linthicum, MD, Lucy Margaret Stonestreet of Aquasco, MD, Alice Holly Stonestreet of Hughesville, MD, Barbara June Guy of Swan Point, MD, Josephine Lanette "Jeanette" Trossbach of Hollywood, MD, Brenda Sue Ann Clarke of Hollywood, MD, Shirley Ann Barczak of Towson, MD, Jean Marie Bowles of Mechanicsville, MD, grandchildren; Francis L. Bowles, Jr., Ciara Nicole Bowles, Melissa Fort (John) and Bianca Buglisi, great-grandchildren; Zillah "Angel" Peters, Ash Fort, Gunnar Fort, in addition to his parents and wife Lewis was preceded in death by his siblings; William Martin Bowles, Sandra Lee Gardner, Elizabeth Cecilia March and Joseph Castle "Butchie" Bowles, granddaughter, Catherine Marie Bowles, and great-grandchild Xander Fort.

The family will receive friends on Tuesday, November 15, 2016 from 5:00PM to 8:00PM with prayers recited at 7:00PM in the Mattingley-Gardiner Funeral Home, Leonardtown, MD. A Mass of Christian Burial will be celebrated on Wednesday, November 16, 2016 at 10:00AM in St. John's Catholic Church, Hollywood, MD with Father Raymond Schmidt officiating. Interment will follow in Evergreen Memorial Gardens, Great Mills, MD. Pallbearers will be: Francis L. Bowles, Jr., Mark Hill, Benjamin Clarke, JC Clarke, Leonard Bean and Robbie Gibson. Honorary pallbearer will be Ciara Bowles. Arrangements by Mattingley-Gardiner Funeral Home.