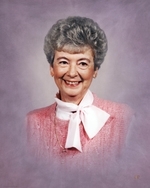 Joan "JoAnne" Rebecca Greenwell, 88, of Hollywood, MD passed away November 10, 2016. Born on May 9, 1928 she was the daughter of the late Louis Spencer Abell and Lillian Mary Long of Hollywood, MD.

She was preceded in death by her husband Clarence Leo Greenwell, and her siblings, A. Spencer Abell, B.I. Abell, Adele Joy and Buck Tippett. JoAnne is survived by her two children; Lois A. Duke (Jay) of Hollywood, MD and Stephen W. Greenwell (Janie) of Piney Point, MD, three grandchildren; Brian Duke (Jane) of Hollywood, MD, Rob Duke of Baltimore, MD, and Kerri Duke Rishel (Bill) of Hollywood, MD, and five great-grandchildren; Savannah Duke, Brenna Duke, Jackson Duke, Kayleigh Rishel and Garrett Rishel.

A lifetime resident of St. Mary's County. She attended St. John's School, grade one through eight. She graduated from Great Mills High School in 1946 JoAnne married Clarence L. Greenwell on May 21, 1949 and together they celebrated 48 years of marriage until his death in 1997. She was a devoted wife, mother, grandmother and great-grandmother.

JoAnne was an employee of the First National Bank of St. Mary's for twenty years. After retiring from the bank she volunteered at St. John's Church in Hollywood, and for St. Mary's Helping Hands food pantry.

"Nannie" as she was affectionately known, was very much involved with her children, grandchildren, and great-grandchildren. She love spending time with her family, sitting poolside watching their antics and going to their many games, softball, soccer, field hockey, horse shows, lacrosse and baseball. She also loved reading, crossword puzzles, and embroidery, creating many beautiful pieces. She was so loved and will be missed by many.

The family will receive friends on Wednesday, November 16, 2016 from 5:00PM to 8:00PM with prayers recited at 7:00PM in the Mattingley-Gardiner Funeral Home, Leonardtown, MD. A Mass of Christian Burial will be celebrated on Thursday, November 17, 2016 at 10:00AM in St. John's Roman Catholic Church, Hollywood, MD. Interment will follow in the church cemetery.

Pallbearers will be; Brian Duke, Rob Duke, Bill Rishel, Larry Raley, Dickie Huseman and Mickey Hayden. In lieu of flowers donations may be made to the Hollywood Volunteer Rescue Squad. Arrangements by Mattingley-Gardiner Funeral Home.