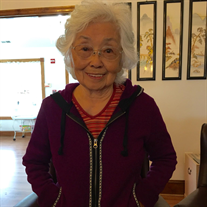 Bonnie "Nobi" Nobuko Hamilton, of Prince Frederick, MD passed away Sunday morning, November 6, 2016 at Taylor Farms Assisted Living in Bushwood, MD, at the age of 84. She was born April 24, 1929 in Sacramento, CA the fourth of five children to the late Iwazo and Kishino Nakamura. Second generation Japanese American, Bonnie was raised by her father and older sisters and brother, as her mother passed away when she was 5 years old.

She grew up in Loomis, CA and during her teenage years after WWII began, her family was forced to live in an internment camp in Tule Lake, CA. After the internment her family moved to Chicago, IL, where she earned her degree from University of Illinois in Speech Pathology and married her husband, James Hamilton.

She raised five children while maintaining a lifelong career in education as a highly regarded Speech Pathologist in the Prince George's County School system. She was devoted to her career and touched the lives of many children with special needs.

Bonnie is survived by her five children, Robert Hamilton, Dawn Gallo, Tom Hamilton, David Hamilton, and Mary Ann Gallo and her five grandchildren, Angela Mckinley, Derek Hamilton, Dagny Hamilton, Reiko Gallo and Allison Gallo. She was the sister of Kay Takagishi, Marie Kitazumi, and Naoko Nakamura. Bonnie was preceded in death by her husband, Jim Hamilton, brother Joe Nakamura, and sister Ryoko (Leo) Nakamura.

A devoted mother and wife whose steadfast strength and love was beyond measure. Her love, warmth, and compassion will forever be missed by her family.

A memorial service and reception for family and friends will be held on Saturday, January 14, 2017, at the Solomon's Landing Condominium Pavilion at 3 pm in Solomons, MD. In lieu of flowers, donations can be made to the Alzheimer's Association, National Capital Area Chapter, 3701 Pender Drive, Suite 400, Fairfax, VA 22030 American Cancer Society, P O Box 22718, Oklahoma City, OK 73123-1718. Arrangements by Lee Funeral Home.