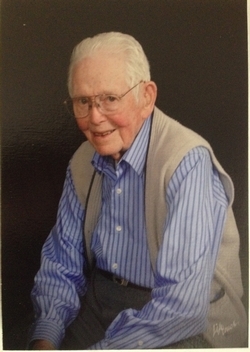 Berlin Ruddle, 100, of Huntingtown passed away November 6, 2016 at Shepherd's Glen Assisted Living in Taneytown, MD. He was born February 4, 1916 in Germany Valley, WV to Harness Lee and Cora Etta (Dove) Ruddle.

Berlin was raised in Germany Valley and Riverton, WV and graduated from Circleville High School in 1936. He attended Coyne Electrical School in Chicago in the summer of 1938, and this was his first time leaving the state of West Virginia. Berlin was drafted into the U.S. Army on March 17, 1941. He moved to Mt. Rainier in 1945, Washington, D.C. in 1949, Hyattsville in 1951, and Huntingtown in 1978 following his retirement.

He was employed as a service technician with Washington Gas Light Company. Berlin was a former member, trustee and Sunday school teacher at Calvary Memorial Church in Hyattsville. He was an active member and trustee at Emmanuel Baptist Church in Huntingtown. In his leisure time, Berlin enjoyed fixing things, which came to be known as "ruddleizing".

Berlin was preceded in death by his wife, Elizabeth Ruddle and granddaughter Christina Young. He is survived by daughter Linda M. Johnson and husband Bill of Huntingtown and son Edward L. Ruddle and wife Gloria of Inwood, WV. Also surviving are grandchildren Kimberly Gardiner and husband Brian of Westminster, MD, William R. Johnson, Jr. and wife Jodi of Darnestown, MD, and Donald Ruddle and wife Nancy of Williamsport, MD, as well as nine great-grandchildren. Arrangements by Rausch Funeral Home.