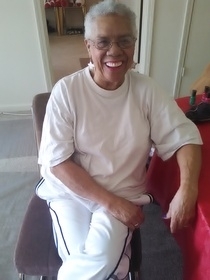 Gertrude Elizabeth Burnette, 84, of Huntingtown, MD passed away on November 4, 2016. Gertrude was born in Aquasco, MD to the late Andrew and Agnes Hester Proctor Savoy. She was a homemaker who enjoyed dancing, cleaning and decorating, and baking and cooking, especially her famous cabbage and potatoes.

She is survived by her sons, Calvin Burnette and his wife Melissa, of Charles County, MD and Carter Henderson and his wife Margie of Davenport, FL; daughters, Gloria Wade and her husband Francis of Hughesville, MD and Patricia Toye of Waldorf, MD and Barbara Wells and her husband Norman R. Wells, Jr. of Newburg, MD; sisters, Marian Brown of Clinton, MD and Lucille Brown and her husband Donald of Huntingtown ; 19 grandchildren and 34 great-grandchildren. Her two sons, David and Michael Toye, five brothers, Leroy, Joseph, James, Harry and William Toye and three sisters, Agnes Wills, Elsie Green and Annalise Savoy have predeceased her.

Donations in Gertrude's memory may be made to her family. Arrangements by Raymond Wood Funeral Home.