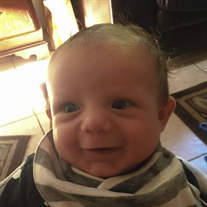 Holden Allen-Jerome Weaver, almost 3 months old, died on November 1, 2016 at the University of Maryland Charles Regional Medical Center, La Plata, Maryland. Born on August 5, 2016 in La Plata, our Holden was with us for such a short time. His smiling little face and his happy coos showed all who loved, knew, or met him what a wonderful little man we were blessed to have. The hole left in our lives by his loss will never be filled. He was preceded in death by Great Grandparents, Vincent Weaver Sr. and Dorothy Weaver.

Holden is the infant son of Alexandra Marie Weaver; he is also survived by his sister Kaitlyn Weisman; brothers Aiden Weaver and Grayson Weaver; grandparents Vincent and Marie (Terry) Weaver; Uncle Eric Weaver, Carly Sager and cousins Eric and Emily, Uncle Brian Weaver and Aunt Charlotte and cousin Caleb; Great Aunt Barbara Sherman and Great Uncle Bruce, "Aunt" Joanna and Uncle Kevin Winters and cousins Jasmine and Jaelynn; Great-grandparents Allen and Marie Gale; Great Aunts and Uncles Linda Gale, Barbara and Steve Huggins, Allen Gale, James Gale and Greg Noone; cousins "Uncle" David Gale and children Anthony, Christin, Collin and Caden, Robert and Matthew Huggins; and special honorary Aunt Brandi Toder. Many more family and friends mourn his loss.

Visitation will be on Thursday, November 10, 2016 from 5PM to 8PM at Raymond Funeral Service, P.A. 5635 Washington Avenue La Plata, MD 20646 where Funeral Services will be held on Friday, November 11, 2016 beginning at 11AM. Interment will be private. Arrangements by Raymond Funeral Service.