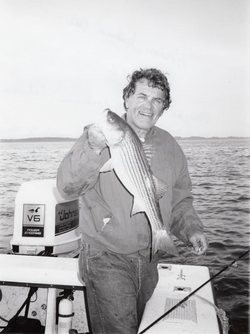 Robert George "Bob" D'Esposito died Tuesday, November 1, 2016 at St. Mary's Nursing Center in Leonardtown, MD. He was born January 12, 1936, in Brooklyn, NY, the eldest son of the late George S. and Jean I. D'Esposito.

At an early age, he moved with the family to Greenbelt, MD. He attended Holy Redeemer grade school and graduated from DeMatha High School in 1953. Afterwards, he attended the University of Maryland, then left to serve in the U.S. Navy for four years, and was later called back to serve two additional years during the Cuban Conflict.

Shortly after returning from Cuba, he was accepted into the Maryland Marine Police Academy as a marine police officer and was sent to St. Mary's County, MD, where he met his future wife, Katherine (Kay) L. Norris of Leonardtown, MD. They were married at St. Aloysius Catholic Church in Leonardtown, MD on February 27, 1965, and celebrated 51 years together. He was the proud father of Christopher "Chris" D'Esposito and Antonietta "Toni" D' Esposito Reynolds. He transferred to the State of Maryland Department of Social Services and later retired from there as a welfare fraud investigator in 1986.

Bob's favorite pastime was fishing and he was known by many as one of the best fishermen around. If the fish were there, he would catch them. Bob was good-natured and liked by all who knew him. He was a devout Catholic and practiced his faith regularly. He was a wonderful and faithful family man who was low maintenance in his desires. He will be greatly missed by all who knew and loved him including his beloved dog, Ruby.

In addition to his beloved wife and children, he is also survived by his two brothers: Stephen D'Esposito of Greenbelt, MD and Gregory D'Esposito of Las Vegas, NV; and his sister, Mary Ann Hawk of Greenbelt, MD. He was the proud grandfather to Adam D'Esposito and Keith D'Esposito of Glen Burnie, MD and Sophia Reynolds of Brownsville, OR. He was preceded in death by his parents.

Family will receive friends for Bob's Life Celebration on Thursday, November 3, 2016 from 5:00 to 8:00 p.m., with prayers conducted by Deacon Bill Nickerson at 7:00 PM, at Brinsfield Funeral Home, 22955 Hollywood Road, Leonardtown, MD 20650. A Mass of Christian Burial will be celebrated by Reverend Rory Conley on Friday, November 4, 2016, at 10:00 AM, at St. Francis Xavier Catholic Church, 21370 Newtowne Neck Road, Leonardtown, MD 20650. Music will be provided by the St. Francis Xavier Church choir with guest vocalists under the direction of Lynn Delahay and organist, Richard Edwards. Interment will follow at St. Mary's Queen of Peace Cemetery in Helen, MD.

Servings as pallbearers will be Adam D'Esposito, grandson; Keith D'Esposito, grandson; Jim Haley, brother in law; John Hawk, nephew; Mike Luginbill, friend; and Glenn Guy, friend. Memorial contributions may be made to the Alzheimer's Association of Maryland, 10665 Stanhaven Place, Suite 205D, White Plains, MD 20695 or St. Mary's Nursing Center, 21585 Peabody Street, Leonardtown, MD 20650. Arrangements by the Brinsfield Funeral Home, P.A., Leonardtown, MD.