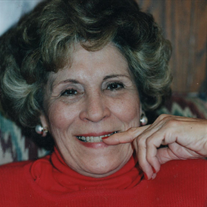 Sophie Louise Crupi, of St. Inigoes, MD passed away on Monday, October 24, 2016, at the age of 93. Sophie was born on May 27, 1923 in Altonna, PA to Mary Dibo (Fradelos) and Constantine Augustus Hamaty. She was married to the late John Crupi, who passed in 1994. Sophie was preceded in death by her former husband, James W. Walden Sr., brother Michael and sister Elizabeth.

She was an owner of various beauty salons over her 40 year career, spanning from 1960 – 2000 in Prince George's County. She enjoyed gardening, was an accomplished artist and hosting events and parties for her friends and family.

Sophie was the loving mother of six children – Sherry Sheaffer (Bobby), James Walden, Jr. (Karin), John Crupi (George), Sharon Johnson (Butch), Michael Crupi and Wayne Crupi. She was the devoted grandmother of six grandchildren and 11 great-grandchildren. She was the sister of Dino Fradelos and also survived by numerous nieces and nephews.

In lieu of flowers, memorial contributions may be made in Sophie's name to the Ridge Volunteer Rescue Squad, P O Box 456, Ridge, MD 20680 or the American Heart Association, Mid-Atlantic Affiliate, Memorial Tribute & Processing Center, 4217 Park Place Court, Glen Allen, VA 23060. Arrangements by Lee Funeral Home.